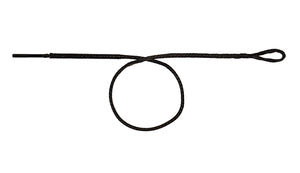 Berd Short/BMX PolyLight™ spokes are ideal for scenarios needing shorter spokes, such as BMX wheels, deep carbon road wheels, and recumbent bike wheels. These spokes must be built according to the specific Short/BMX instructions located in the Berd Spoke Installation Guide.

Compatible with J-bend hubs only
Use Berd

 

spoke length calculator

 

for calculating lengths
Weight: (64 pcs x 195 mm) 147 g
Available lengths: 178 - 249 mm in 1 mm increments
14 gauge (2.0mm) stainless threaded connection at rim (has flat section that is held with a special tool to prevent twisting)
Integral eyelet for connection to J-bend or straight-pull hubs
Double square secure lock nipples recommended (sold separately)
Must purchase Berd Builder's Kit (one-time purchase, sold separately)
Each spoke order (per 64 spokes) will receive one Berd Consumables Kit, which includes rods for spoke loops (68), wire with loop ends (4), grinding bit (1), rubber polishing bits (3), and Berd wheel stickers (2).
Each spoke order (per 64 spokes) will also include a special drill bit to enlarge hub holes, which is required only for Short/BMX spokes.

On single wall or shallow rims, the spokes & nipples have a chance of protruding into the rim bed, which can lead to tire/tube failure. Please ensure that there is proper clearance between the rim bed and spoke bed before ordering.
Backed by Berd's 5-Year Limited Warranty
Spoke orders ship within 2-3 weeks of order.
Berd spokes are made from an advanced polymer called ultra high molecular weight polyethylene (UHMWPE) that has 12 times the strength-to-weight ratio of steel and floats on water. Berd spokes have an improved fatigue life compared to steel and are impervious to the elements.