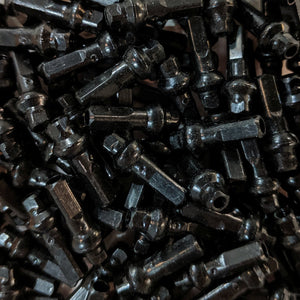 For external nipple rims, Berd recommends building with Sapim Aluminum Polyax Double Square Secure Lock nipples, which provide the following features:
• 0.4 g per nipple
• Requires 3.2mm square drive spoke wrench to turn. Berd recommends the Park Tool SW-15
• Allows truing from the back side of the rim. This is necessary as the tool used to prevent spoke windup makes truing difficult from the hub side of the rim.
• Rim side truing also does not create cosmetic damage on visible surfaces
• The head's special shape allows larger spoke angles and prevents misalignment
• The Secure Lock feature prevents the possibility of nipple loosening during riding
• The 16mm long body allows for more thread engagement

Note - Quantities of these nipples are limited to the number of spokes on the order.